Samsung 9kg Front Loader Inox WW90K541OUX
BRAND: SAMSUNG
SKU: 000000000010117850
Availability: Delivery will be planned after 17 April 2020
Shopping with us is safe & secure


Digital inverter motor


Tempered glass window


Quick wash


Active dualwash


Diamond drum


Smart check


Ecobubble technology


2 Year warranty


Store & Stock Availability
Samsung 9kg Front Loader Inox WW90K541OUX
Simply add during wash
Forgot a shirt? Add Wash lets you simply and quickly add forgotten clothes after your cycle has already started. You can also easily pop in hand-washed clothes that you just want to rinse or spin dry.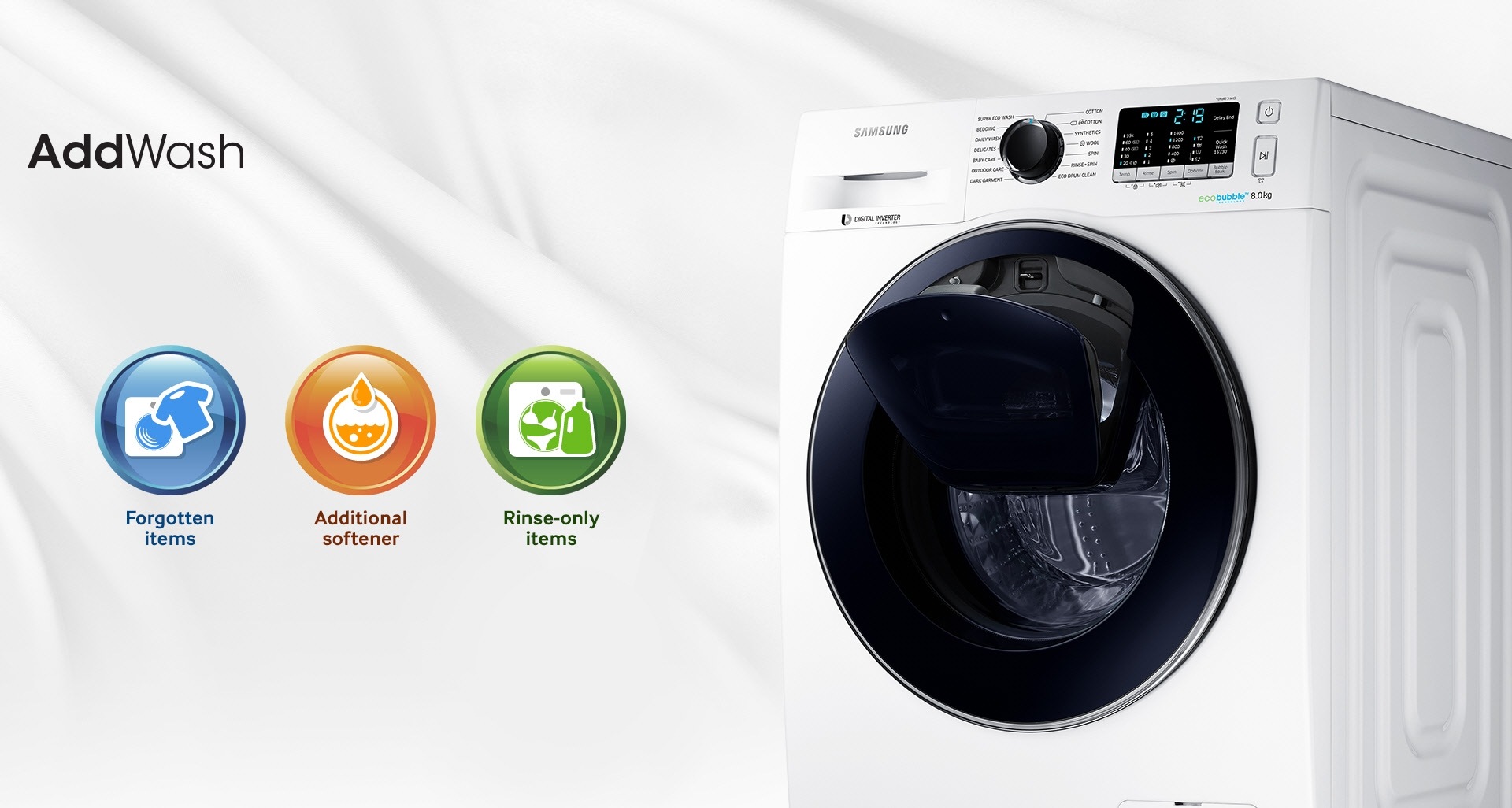 * Add door can be opened at any time if the temperature inside the drum is below 50°C.
Undeniable performance of bubbles
Eco Bubble technology delivers powerful cleaning, even at low temperatures*. Detergent is turned into bubbles, so it quickly penetrates fabric and removes dirt easily, while protecting the fabric and saving energy.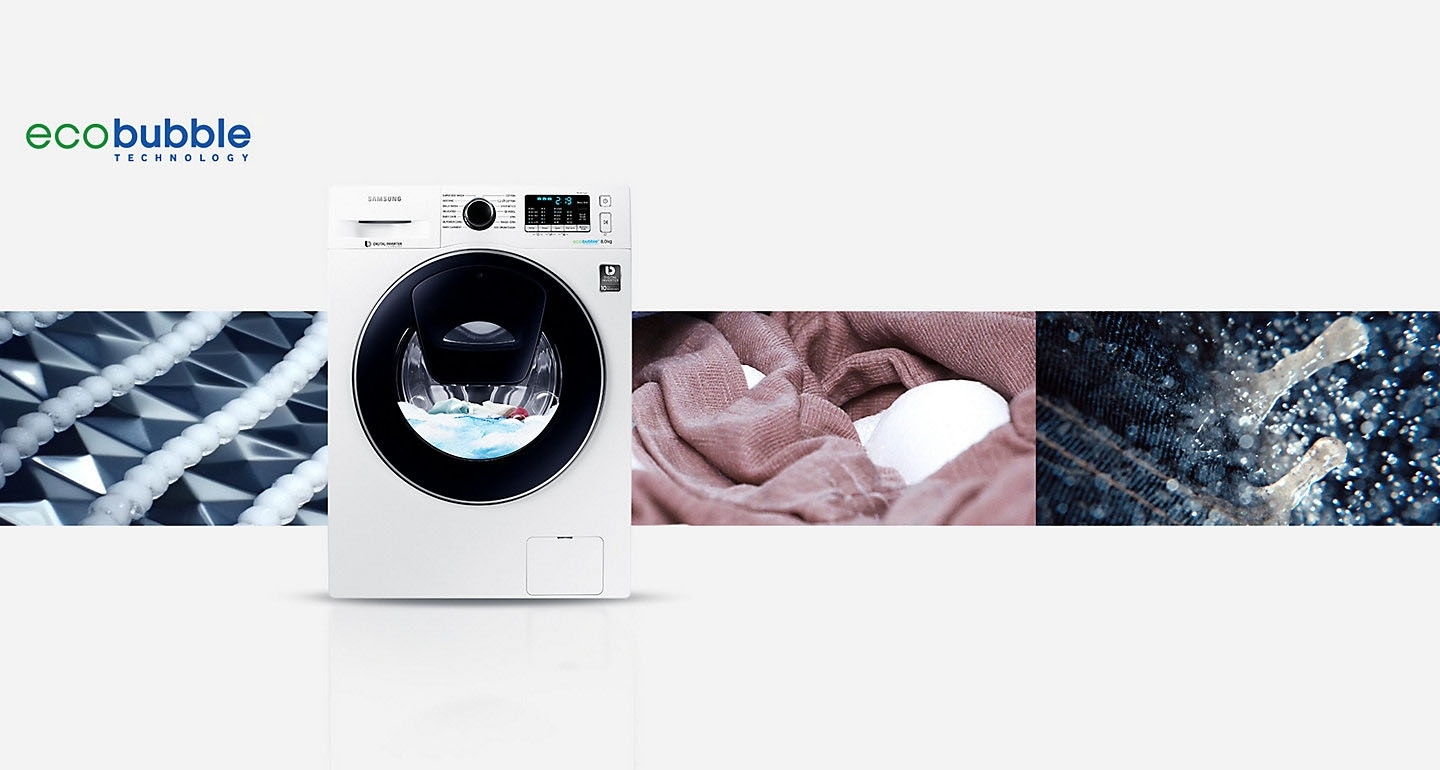 * Tested in accordance with IEC 60456-2010/4 kg Wash Load/Super Eco Wash cold (WF80F5E5U4W) vs. Cotton 40° without Eco Bubble (WF0702WKU). Individual results may vary. ** Based on the Performance Lab Test report by Springboard Engineering on EMPA strips, between normal detergent solution and bubble technology without mechanical action.
Intensive Stain Removal
With the touch of a button Bubble Soak technology helps remove a variety of stubborn stains. Clothes are thoroughly soaked in bubbles, so stains are loosened and removed effectively.*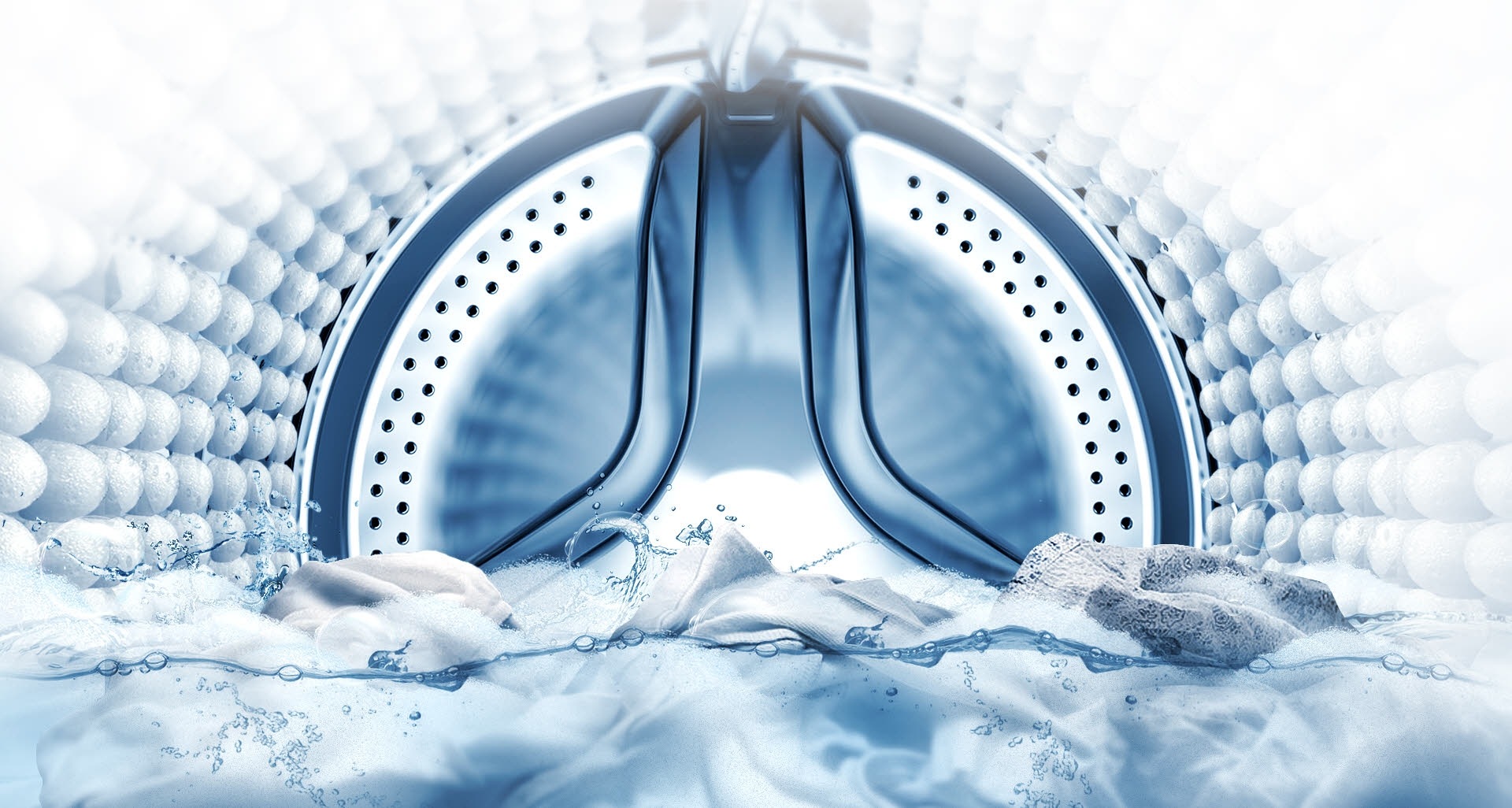 * Tested in accordance with IEC 60456 5th edition/8 kg Wash Load/Bubble Soak Wash (WF80F5E5U4) vs. Cotton 40/60°, Synthetic 60°, and Denim 40° without Bubble Soak (WF0702WKU).
Works smart. Stays young.
A Digital Inverter Motor delivers superior energy efficiency, minimal noise and long-lasting performance. It utilises strong magnets for a quieter and more powerful performance, but consumes less energy than a Universal Motor. And, by eliminating the use of brushes, it provides outstanding durability – backed-up by a 10 year warranty.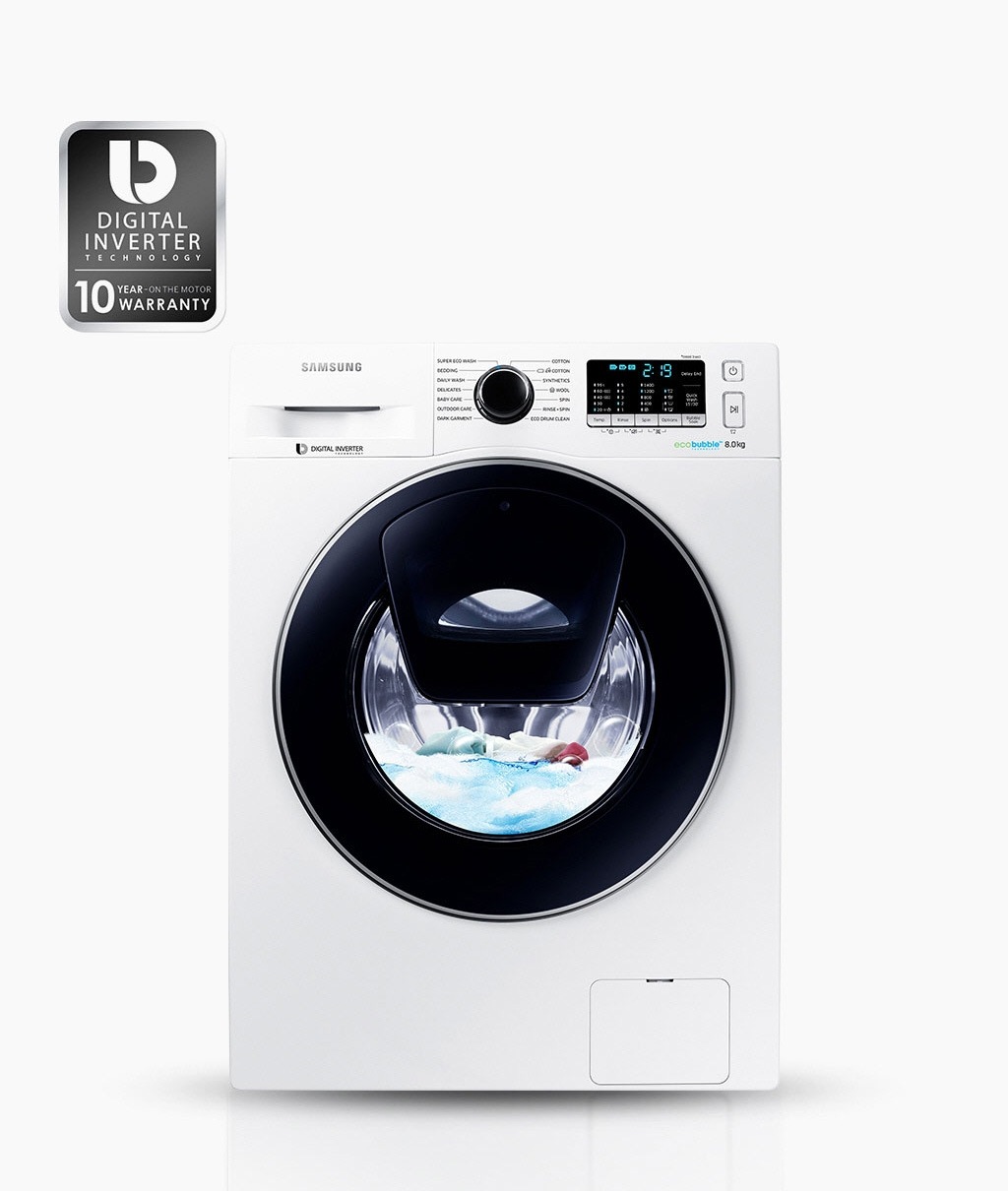 Easy troubleshooting
The Smart Check automatic error-monitoring system detects and diagnoses problems and provides easy troubleshooting solutions using a smartphone App. So it saves you time and avoids the cost and inconvenience of unnecessary engineer callouts!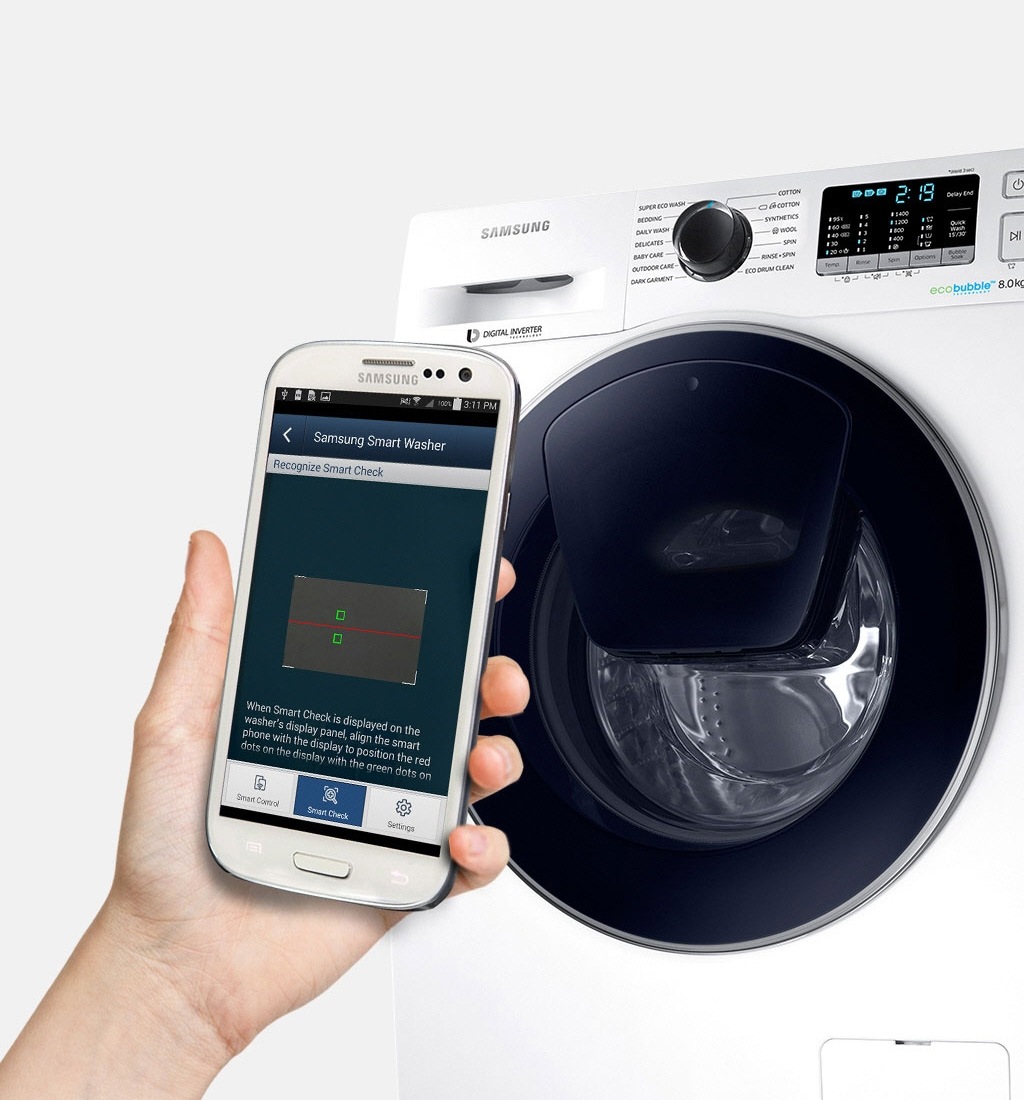 Design
Display type
(LED)
Colour of product
(Silver)
Performance
Maximum spin speed
(1,400 rpm)
Weight & dimensions
Width
(60.000)
Depth
(55.00cm)
Height
(85.000)
Ergonomics
Child lock
(Yes)
Washing programs
Intensive/outdoor washing program
(Yes)
Synthetics washing program
(Yes)
Eco washing program
(Yes)
Cotton washing program
(Yes)
Delicate/silk washing program
(Yes)
Hand/wool washing program
(Yes)
Technical details
Pre-wash
(Yes)
Found it cheaper elsewhere? We will beat the price
Find it cheaper at any major retailer, online or instore, and we will beat the price
We undertake to beat the price of any of our advertised products. This "price beat" excludes all online offers, website sales, opening sales, limited quantity or closing down sales or price errors, or Black Friday promotions. As a proud Supplier of original branded products we will not price beat any price for a grey or parallel import product. Subject to the above listed exclusions, we will beat a price from any local retailer on condition that the identical product must be in stock at the local retailer at the time of the price beat request by the customer from any local retailer on condition that the identical product or promotional offer linked to the identical product (ie freebies and bundle deals) must be in stock at the local retailer at the time of the price beat request by the customer.
Delivering your online order
This service is available throughout South Africa and delivery will be affected between 24 to 72 hours, (Monday to Friday, excludes weekends and public holidays) on condition that your order is placed and payment as well as your order confirmation is received before 12h00. This depends on origin and destination. A further delay of up to 24 hours may be experienced on shipments to or from an Outlaying Delivery Areas.
What will Delivery cost?
Delivery prices differ and are determined by the following –
Small Appliances attract no delivery fee and is delivered FREE of charge
Large appliances attracts a R250 delivery fee
What is the delivery time frames?
Delivery service timeframes will commence upon payment confirmation being received (unless supporting documents are requested i.e. in the case of the verification of TV License, a copy of an I.D will be requested).
Delivery periods will generally be effected within the selected delivery type timeframe, after collection from point of dispatch and between Major Centers from Monday to Fridays
We deliver on Monday to Friday from 08h00 to 17h00 to both business and residential addresses.
No deliveries on a Saturday and Sunday and any Public Holiday.
If you place your order before 12h00 on a Friday, as all deliveries exclude Saturday and Sunday, your delivery will be affected on Monday. Certain Outlaying Delivery Areas routes and centers may experience a 24-hour delay due to lack of transportation available to the location.
Major centers include any destination within a 40km radius of the following cities: Pretoria, Johannesburg, Bloemfontein, Cape Town, George, Port Elizabeth, East London, Durban, Pietermaritzburg and Nelspruit. Delivery outside main centers is usually within 3 working days. The following areas may experience delays due to airline constraints: George, Nelspruit, Richards Bay, Polokwane and Welkom.
What if I miss my delivery?
We will notify you of any failed delivery. This means, should no one be at the delivery address to receive and sign for the goods at the time of delivery. We will endeavor to reschedule the delivery with you within 24 – 48 hours; however you may be liable if any additional handling and shipping charges are incurred for a re-delivery.
What if my items are damaged, faulty or incorrectly delivered?
Incorrect items or quantity delivered
Should the incorrect items or quantity of items be delivered to you, you need to notify HiFi Corp immediately so that we can rectify the situation.
You can choose to notify us by:
Phone on 0860 459 459
Email at [email protected]
We will get someone to uplift the incorrect items and replace them with the correct items.
Damaged or faulty items delivered
Should the items you receive be damaged or faulty, you need to notify HiFi Corp within 24 hours of delivery.
You can choose to notify us by:
Phone on 0860 459 459
Email at [email protected]
We will get someone to uplift the damaged or faulty items and replace them with the correct items
Returns and refunds
What is HiFi Corp's Repair, Exchange and Returns Policy?
Sometimes, things don't quite work out. Luckily, we offer a full returns and exchanges policy.
You may return or exchange goods at any one of our HiFi Corp stores subject to producing the original receipt, and ensuring the merchandise is in its original packaging and condition. Should this not be in in its original condition, a handling fee of up to 15% of the value of the product may be charged as per the CPA.
The following cannot be returned or refunded:
Non-returnable/ non-refundable items
Delivery and or installation costs
Pre-paid cards
Digital content
Any damaged or abused items
Faulty/defective products after 14 days: (excluding all panel televisions larger than 32" (plasma LCD & LED) as well as all Large appliances)
In the unfortunate event that your purchased product becomes faulty or defective, you can opt to have it taken to any HiFi Corp to be seen to. You will be entitled to the following option of as per the CPA:
Have such product repaired
Have product replaced
Be refunded the price paid
In the event that the product is found to be not faulty, you will be liable for all handling and shipping charges; for the collection and the re-delivery of the product to you. You will be liable if the goods are damaged or faulty as a result of misuse, abuse or negligence
The warranty does not cover any defects caused by foreign objects or connection errors that are not part of the appliance.
Refunds can take up to 10 Days to reflect in your bank account. Should you not receive the money within 10 days, kindly contact our contact centre on 0860 459 459