Samsung 49-inch(124cm) Smart UHD LED TV- 49NU7100
BRAND: SAMSUNG
SKU: 000000000010117428
Availability: Delivery Within 14 Days
Shopping with us is safe & secure


Resolution 3840 x 2160


HDMI x 3


USB x 2


Smart TV


HDR


24 month warranty


Store & Stock Availability
UHD, Get connected, get more delight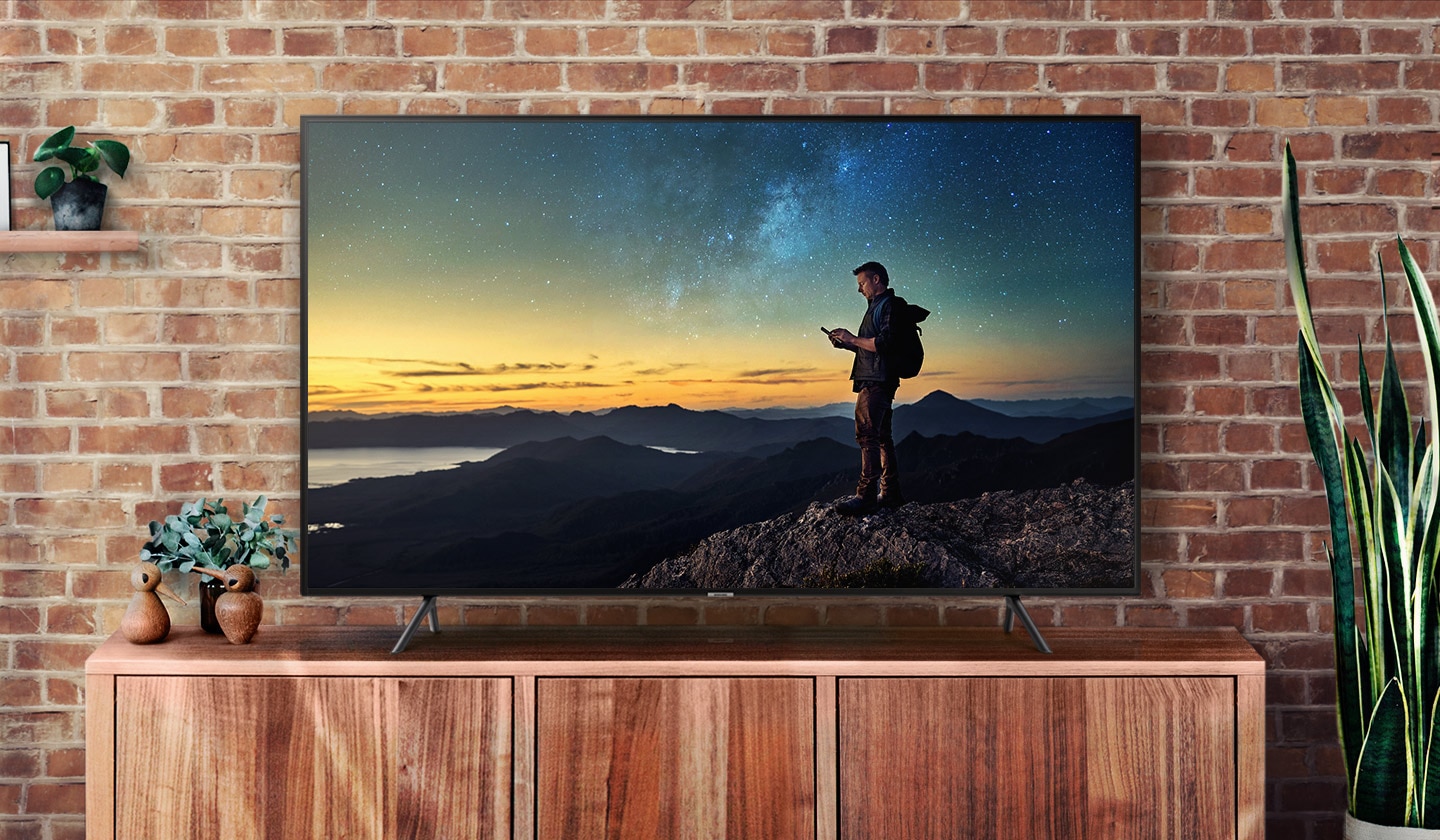 TV displays are filled with millions of pixels – small coloured dots that together form images on our TV screens. Enjoy sharp, crisp images with 4K Ultra HD screens that have 4x the number of pixels of a FHD TV**. Now you can even see the smallest details in every scene.
*Compared to conventional Samsung FHD TVs.
**Samsung RGB 4K Ultra HD televisions are certified to the Ultra HD standards of the Consumer Technology Association and Digital Europe. To view in 4K Ultra HD, a 4K Ultra HD TV and 4K content are required
Not All UHD Are Made Equal
Samsung RGB UHD screens offer fully coloured pixels that do not dilute the picture quality or vibrancy*.
*RGBW 4K UHD TVs, only some of the 3840 pixels across the screen are RGB - the rest contain a white pixel. RGBW TVs have 25% fewer Red, Green and Blue pixels, which reduces their colour range and resolution capability,
HDR10+, see more details
HDR 10+ brings the content creator's vision to life. As the most advanced HDR technology available, it optimizes every scene frame to frame for more remarkable HDR expression.
* Get ready to immerse in the heart of the action now!
* The HDR10+ certification may vary by model and only available on HDR10+ content. Compared to conventional Samsung conventional TVs and only available on HDR10+ content.
Immerse in Vivid & Precise Colour
Dive into your TV entertainment and see all the richness of nature in accurate detail with PurColour.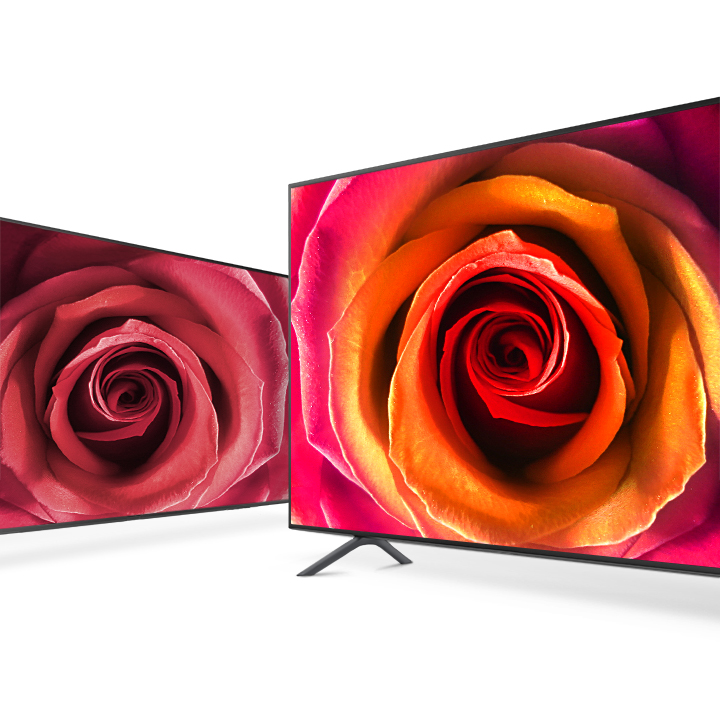 UHD Dimming
UHD Dimming divides the screen into blocks to optimise the colour, sharpness, and the levels of deep black and pure whites for the perfect contrast.
Super Big TV, see the bigger picture
E-Catch your big match on the big screen. Indulge in breathtaking cinematic experiences and immerse yourself in all the latest sporting actions. Vivid colours and impeccable details, you'll keep wanting more.
Slim Design
Modern and polished, the sleek and stylish Samsung UHD TV naturally fills the contours of your space with refined elegance.
* Actual product may differ from image shown. Please see our product gallery.
An intelligent way to enjoy the smart TV
Get to your entertainment the faster, easier, and more intelligent way. Search less, and watch more with the newly enhanced intuitive Samsung Smart Hub. Enjoying TV has never been this simple.
* Smart service and GUI(Graphic User Interface) may vary by model and region.
* Netflix streaming membership required.
* Not all apps are applicable in Singapore.
Easy Set-up with your mobile
Step 1
Your mobile and TV will connect automatically, taking you to the set-up step.
Step 2
If your mobile is connected to Wi-Fi, the network information will be shared with your TV.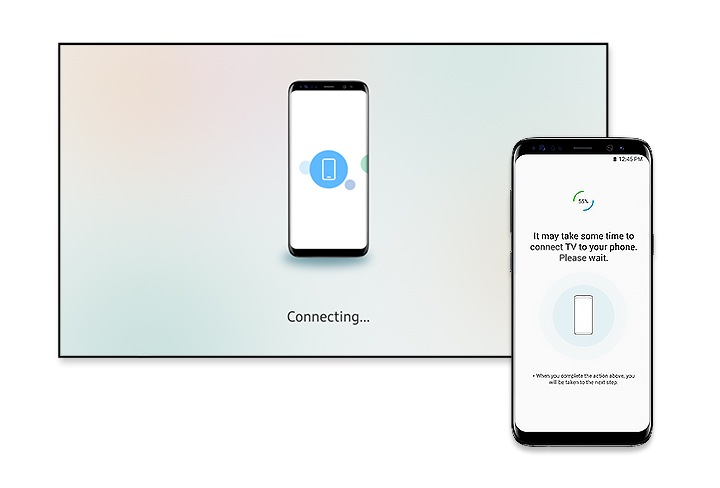 Step 3
If your mobile is linked to a Samsung Account, the account information will automatically be shared with your TV.**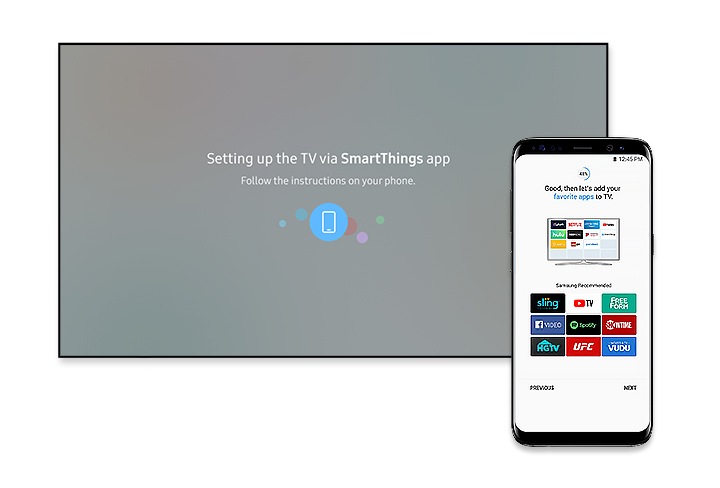 Step 4
Select the apps you want to enjoy and add them to the Smart Hub. That's it! Now, just kick back and enjoy your Smart TV!***
* Auto recognition between mobile phone and TV may vary depending on the mobile device. For mobile devices that do not support auto recognition, open the SmartThings app on your mobile to begin set-up. . All devices must be on the same network and internet connection is required.
** Setup process requires a Samsung Account. TV must have an internet connection for mobile set-up.
*** The set-up process can also be done by remote control.
Content Sync & Share
Take full advantage of the Samsung Cloud. Seamlessly connect your Samsung smart devices to sync photos with the TV. Now you can easily share your mobile pictures and enjoy it on the large screen.
* All devices must be on the same network and internet connection is required. Subject to device compatibility.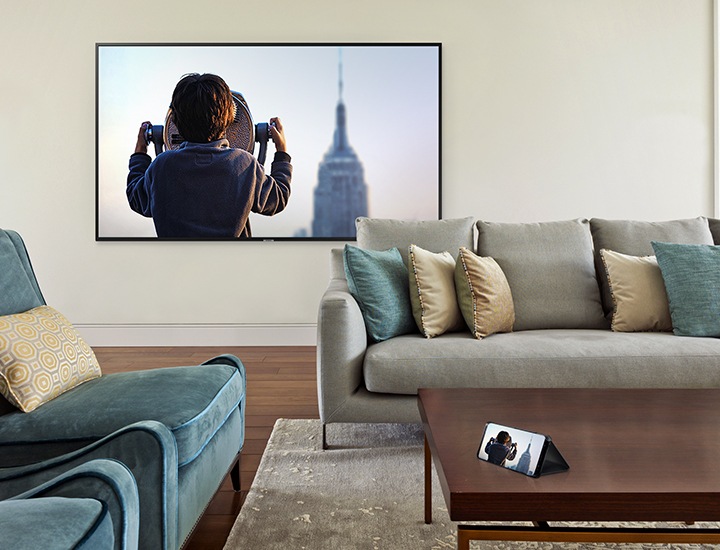 It doesn't stop here.
Enjoy more with endless contents.
Enjoy your high speed PC games on the TV via Steam link. Play your favourite PC games on the big screen without having to squint and hunch over a small monitor.
* Steamlink service and GUI may vary by region.
* Images are simulated and for illustration purposes only. The appearance and design specifications which is not affecting to product performance are subject to change without notice. All images shown are for illustration purposes only and may not be an exact representation of the product. Please check in-stores for more details.
Display
Display resolution
(3,840 x 2,160)
3D compatibility
(No)
Display diagonal
(124 cm (49"))
Smart TV
Smart TV
(Yes)
Audio
RMS rated power
(20W)
Audio system
(2CH)
Ports & interfaces
RF ports quantity
(1)
Component video (YPbPr/YCbCr) in
(1)
USB 2.0 ports quantity
(2)
HDMI ports quantity
(3)
Digital audio optical out
(1)
Networking
Browsing
(Yes)
Ethernet LAN
(Yes)
WLAN-ready
(Yes)
Wi-Fi Direct
(Yes)
Management features
Auto power off
(Yes)
Electronic Programme Guide (EPG)
(Yes)
On Screen Display (OSD) languages
(Local Languages)
Performance
Processor cores
(Quad-Core)
Game mode
(Yes)
Power
AC input frequency
(50/60Hz)
AC input voltage
(100-240V)
Power consumption (max)
(145W)
Annual energy consumption
(164kWh)
Weight & dimensions
Package dimensions (WxDxH)
(125cm x 15.3cm x 77.8cm)
Width
(15.30cm)
Height (with stand)
(71.64cm)
Depth (with stand)
(26.13cm)
Width (with stand)
(110.28cm)
Package weight
(18.00kg)
Height
(77.80cm)
Depth
(125.00cm)
Weight with stand
(13.50kg)
Packaging content
Handheld remote control
(Yes)
Batteries included
(Yes)
Cables included
(Yes)
Manual
(Yes)
Found it cheaper elsewhere? We will beat the price
Find it cheaper at any major retailer, online or instore, and we will beat the price
We undertake to beat the price of any of our advertised products. This "price beat" excludes all online offers, website sales, opening sales, limited quantity or closing down sales or price errors, or Black Friday promotions. As a proud Supplier of original branded products we will not price beat any price for a grey or parallel import product. Subject to the above listed exclusions, we will beat a price from any local retailer on condition that the identical product must be in stock at the local retailer at the time of the price beat request by the customer from any local retailer on condition that the identical product or promotional offer linked to the identical product (ie freebies and bundle deals) must be in stock at the local retailer at the time of the price beat request by the customer.
Delivering your online order
This service is available throughout South Africa and delivery will be affected between 24 to 72 hours, (Monday to Friday, excludes weekends and public holidays) on condition that your order is placed and payment as well as your order confirmation is received before 12h00. This depends on origin and destination. A further delay of up to 24 hours may be experienced on shipments to or from an Outlaying Delivery Areas.
What will Delivery cost?
Delivery prices differ and are determined by the following –
Small Appliances attract no delivery fee and is delivered FREE of charge
Large appliances attracts a R250 delivery fee
What is the delivery time frames?
Delivery service timeframes will commence upon payment confirmation being received (unless supporting documents are requested i.e. in the case of the verification of TV License, a copy of an I.D will be requested).
Delivery periods will generally be effected within the selected delivery type timeframe, after collection from point of dispatch and between Major Centers from Monday to Fridays
We deliver on Monday to Friday from 08h00 to 17h00 to both business and residential addresses.
No deliveries on a Saturday and Sunday and any Public Holiday.
If you place your order before 12h00 on a Friday, as all deliveries exclude Saturday and Sunday, your delivery will be affected on Monday. Certain Outlaying Delivery Areas routes and centers may experience a 24-hour delay due to lack of transportation available to the location.
Major centers include any destination within a 40km radius of the following cities: Pretoria, Johannesburg, Bloemfontein, Cape Town, George, Port Elizabeth, East London, Durban, Pietermaritzburg and Nelspruit. Delivery outside main centers is usually within 3 working days. The following areas may experience delays due to airline constraints: George, Nelspruit, Richards Bay, Polokwane and Welkom.
What if I miss my delivery?
We will notify you of any failed delivery. This means, should no one be at the delivery address to receive and sign for the goods at the time of delivery. We will endeavor to reschedule the delivery with you within 24 – 48 hours; however you may be liable if any additional handling and shipping charges are incurred for a re-delivery.
What if my items are damaged, faulty or incorrectly delivered?
Incorrect items or quantity delivered
Should the incorrect items or quantity of items be delivered to you, you need to notify HiFi Corp immediately so that we can rectify the situation.
You can choose to notify us by:
Phone on 0860 459 459
Email at [email protected]
We will get someone to uplift the incorrect items and replace them with the correct items.
Damaged or faulty items delivered
Should the items you receive be damaged or faulty, you need to notify HiFi Corp within 24 hours of delivery.
You can choose to notify us by:
Phone on 0860 459 459
Email at [email protected]
We will get someone to uplift the damaged or faulty items and replace them with the correct items
Returns and refunds
What is HiFi Corp's Repair, Exchange and Returns Policy?
Sometimes, things don't quite work out. Luckily, we offer a full returns and exchanges policy.
You may return or exchange goods at any one of our HiFi Corp stores subject to producing the original receipt, and ensuring the merchandise is in its original packaging and condition. Should this not be in in its original condition, a handling fee of up to 15% of the value of the product may be charged as per the CPA.
The following cannot be returned or refunded:
Non-returnable/ non-refundable items
Delivery and or installation costs
Pre-paid cards
Digital content
Any damaged or abused items
Faulty/defective products after 14 days: (excluding all panel televisions larger than 32" (plasma LCD & LED) as well as all Large appliances)
In the unfortunate event that your purchased product becomes faulty or defective, you can opt to have it taken to any HiFi Corp to be seen to. You will be entitled to the following option of as per the CPA:
Have such product repaired
Have product replaced
Be refunded the price paid
In the event that the product is found to be not faulty, you will be liable for all handling and shipping charges; for the collection and the re-delivery of the product to you. You will be liable if the goods are damaged or faulty as a result of misuse, abuse or negligence
The warranty does not cover any defects caused by foreign objects or connection errors that are not part of the appliance.
Refunds can take up to 10 Days to reflect in your bank account. Should you not receive the money within 10 days, kindly contact our contact centre on 0860 459 459